Recap Of Amiri Baraka's 75th Birthday Jazz Concert
Posted by Maria Miaoulis in Amiri Baraka, Bethany Baptist Church, Newark, NJ, Recaps & Reviews
October 5th, 2009 Comments Off on Recap Of Amiri Baraka's 75th Birthday Jazz Concert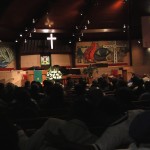 The hall of Newark's Bethany Baptist Church buzzed with excitement on Saturday, October 3, 2009, as we awaited the start of a Jazz Vespers program honoring legendary poet, playwright and activist, Amiri Baraka.
Like the tiled mosaic of a storm-tossed boat decorating the front of the altar, this controversial artist is thought by many to be a troubled man instead of a celebrated trailblazer. However the members of his lifelong church endeavored to alter this negative image. Truth be told, they succeeded.
The night's festivities opened with the musical genius of jazz giants, Randy Weston and Alex Blake. The duo captivated the audience with several hits including Weston's greatest, "Hi-Fly." All became lost in the piece, lulled by Weston's melodic piano playing, awed by the power and emotion behind Blake's larger-than-life bass mastery.
Hardly anyone could contain their exhilaration when Blake broke out into a series of scats. There were moments of spontaneous applause as he attacked his instrument with a force that made our hearts pound as one. Perhaps Pastor Howard summed up the experience best when bringing attention back to the guest of honor. Still catching his breath after the amazing set he told Baraka, "This is an expression of love we have for you. If you hadn't given us so much," he continued, "we wouldn't be doing all this for you."
Pastor Howard dismissed doubts people might have had about Amiri Baraka's unsettled past and asked that we see his life in this way: "If you can have new truth revealed to you and change your course" he said, "then that's something."
Baraka spoke about these truths when he addressed the crowd later. He did not avoid talking about his run-ins with the law and authority in general, most recently when his racially charged poem "Somebody Blew Up America" cost him the honor of New Jersey Poet Laureate in 2002. But he has never blamed others for his actions, citing his strong and rebellious nature in pranks he pulled as a little boy in Bethany Baptist Church which had guests doubling over in laughter.
"The goal of a revolutionary is to seize power," Baraka repeated throughout his speech, acknowledging his often changing political and social views. He has always sought truth and knowledge to make the world a better place for that time. Yet despite his historical impact in the end what we saw was a family man- a husband grateful to his wife for changing him for the better, as well as a proud father boasting of his children's accomplishments. This lasting impression ended a memorable night for those who had the opportunity to be there and celebrate Baraka's life through the realm of spiritual jazz.